Deerfield Beach, FL – March 2, 2015 – More than ten thousand Kenyans will be positively impacted by the newly created partnership and commitment of three organizations; Wishing Well International Foundation, Safe Water Team and Safe Water Kenya. It's the first time these non-profits have joined together to provide clean, safe drinking water in Kenya. WWIF and SWT have teamed up in the past for projects in Ghana and the Dominican Republic.
The project was planned during a January conference call between Safe Water Team Executive Director Jim Bodenner, Safe Water Kenya Executive Director Don Arnold and Guillermo Guzman, Founder and CEO of Wishing Well International. "By sharing the cost of the project among our three organizations, we're able to make a greater impact and pull off a campaign that would be difficult to accomplish on our own," said Guillermo Guzman.
The three non-profits will equally share the cost of the project, which deploys hundreds of water filters in Kenyan communities. Safe Water Kenya secured additional funding in the form of carbon credits from the Gold Standard Foundation. The credits are offered as an incentive for community projects that preserve and protect the environment. The environmental benefit of installing hundreds of water-cleaning filters in Kenya is the reduced consumption of local wood. Boiling water with firewood is a long-established way to purify water. However, many trees are sacrificed for this firewood and harmful gasses are released into the environment when it's burned. Therefore, the benefit of installing the filters is two-fold; it gives Kenyans greater access to one valuable resource while reducing their consumption and dependence on another.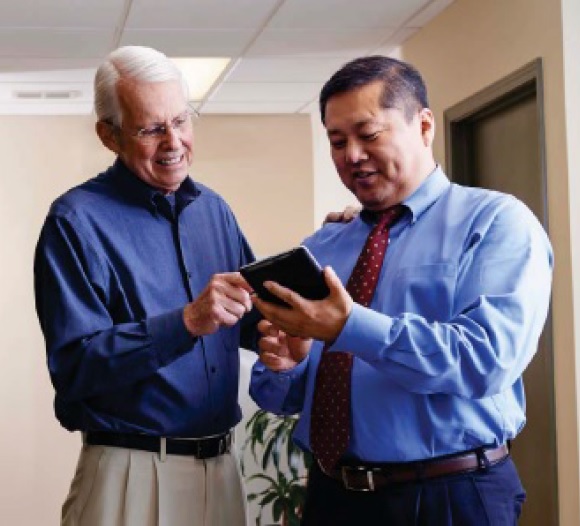 The deployment of so many filters is also a merger of low and high technologies. The Hydraid BioSand filters are easy to install and operate, requiring no electricity. They're able to filter water from any source, using gravity to reduce bacteria and viruses from the water. On the other hand, the software and equipment that SWK is using to track and monitor the filters is cutting edge. After considering a variety of manual tracking options involving pen, paper and slow data-entry, SWK Director Don Arnold was approached by mFrontiers and advised to use an Oracle-based system that relies on inexpensive, hand-held tablets.
"The benefits of this mobile technology go far beyond time-saving efficiency and elimination of errors," Arnold said. "As a management tool, it allows Safe Water Kenya in the United States to maintain a real-time view of operations, which is not possible with traditional manual systems. In addition, it is extremely important for any not-for-profit organization to show results to its support base, and Oracle technologies have advanced our reporting from periodic generalities to accurate, daily, house-to-house installation results. We know of no other organization with this capability."
"Working in partnership with other organizations has been a key strategy of WWIF since its creation in 2011. We make every effort to have the greatest impact with the least amount of money," said Guillermo Guzman. "Jim Bodenner and the Safe Water Team have been so helpful to us since the beginning. And now our relationship with Don Arnold and Safe Water Kenya has led to this incredible, new technology that we'll be able to use in the future to share the results of our efforts with our donors."
There will be a demonstration of Oracle's tracking technology at the WWIF booth at the upcoming WQA Aquatech Show in Las Vegas.
Click here to learn more about the Foundation.
Click here to become a corporate sponsor.
Thank you for your support.
---
Recent Comments
0 comments